The only limit is your imagination – you can apply a rich, luxurious 24kt gold finish on any metal surface. Gold plating emblems on cars is a huge market, but that's only the beginning!
Automotive
Marine
Aviation
Sporting Goods
Housewares
Faucets & Fixtures
Silverware
Guns & Knives
Jewelry
Electronics
Apparel & Fashion
Musical Instruments
Watches & Timepieces
Fountain Pens
And more…
The plating process couldn't be faster or easier to learn. Our systems are high tech; but totally user-friendly. Absolutely no technical or mechanical skill is required – if you've ever used a paintbrush, you can operate a Gold Effects system. The entire process is completed in a matter of minutes, using a simple three-step process. Please watch this video to see how it's done.
Our systems make it easy for anyone to get into gold plating. Whether you dedicate full-time, part-time, or weekends… this is the ideal business. Be your own boss, absentee owner, or get the family involved. You don't even have to quit your present job. From full focus to side-hustle, you make the time and gold plating can make money for you.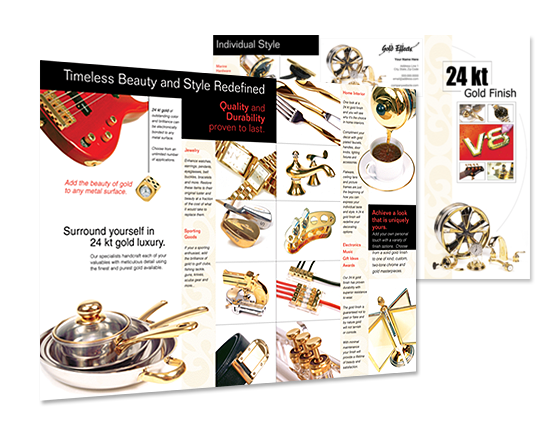 Gold Effects customers can take advantage of world-class marketing support to help "jump-start" their success. We offer professional point-of-sale brochures and business cards; ready to customize with your company's name and address. Let us help you kick off your gold plating service business with a professional look!
By nature, gold does not oxidize or corrode. With proper care, it will last the lifetime of the work piece that has been plated.
There are no size limitations. From a dime to a DeLorean, Gold Effects systems automatically adjust to your work piece size for professional results every single time.
None at all! Gold Effects plating systems use standard 110-volt AC wall power. We offer an optional global AC input adapter, so you can easily plug into any wall outlet worldwide from 100v to 240v. And for total versatility, we also offer an optional automotive cigarette lighter adapter; or external battery for cordless operation.
The Gold Effects 24kt gold solution is specially formulated to bond to a nickel surface. Sometimes, you may wish to add a gold finish to metals such as stainless steel, copper, or brass; which first need to be plated with nickel in order to receive the 24kt gold solution.
Gold Effects' water-based solutions have been specially formulated not to harm any surfaces – they only react to conductive surfaces. The paint on a car is non-conductive, and therefore is unaffected by the plating process.
Most vehicle emblems are manufactured with a plastic base. The base is first nickel coated, and then chrome plated from the factory. It does not matter that the base is plastic; as long as a conductive outer coating exists to plate to.
Yes – Every Gold Effects system carries a full factory lifetime warranty. Each machine is hand-built, and undergoes extensive testing to ensure every component meets our high standards. In the rare instance that your system needs servicing, please call or email our support department.
Support by phone:
(727) 560-0203
– OR –
E-mail our support department
Shipping is FREE via UPS Ground when you order a new Deluxe Plater®, Smart Plater®, or Intro Plater® package.
We charge flat rate shipping for chemistry re-orders and accessories, which varies based on the geographic distance between our warehouse in Clearwater, FL and your address. Gold Effects chemistry is classified as dangerous goods; so our flat rate shipping cost also covers hazmat fees.
To keep shipping costs as low as possible; all Gold Effects equipment and chemistry is shipped via UPS ground within the United States. Alternative shipping options / speeds available by request – please contact us for details.
Yes – while ordering from our online store is currently limited to the US lower 48 states, we have decades of experience shipping our equipment and chemistry worldwide. If you would like to order outside of the US, please contact us directly. Our representatives are happy to prepare an international shipping quote for your review.
Still have questions? Feel free to contact us.