Deluxe Plater® Advanced Features
Deluxe Plater®
Advanced Features
---
A rugged, full-featured, industrial grade gold plating system for high-volume service business!
Revolutionary, patented design allows for ease of plating in every market. Place the power system in the chair frame and gold plate automobiles in comfort – no standing, stretching, or fatigue. Or simply remove the power system from the chair and operate on a bench top, counter top, or even boat deck!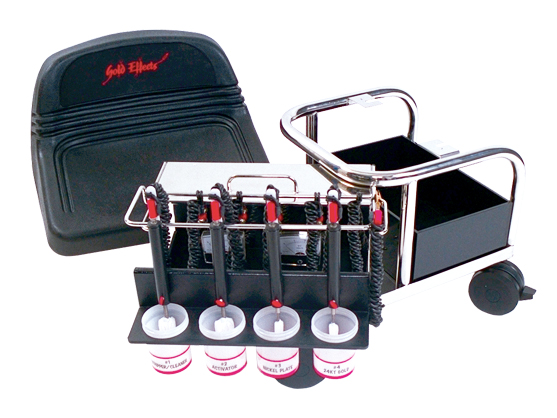 The power system can be removed from the rolling seat base for total versatility.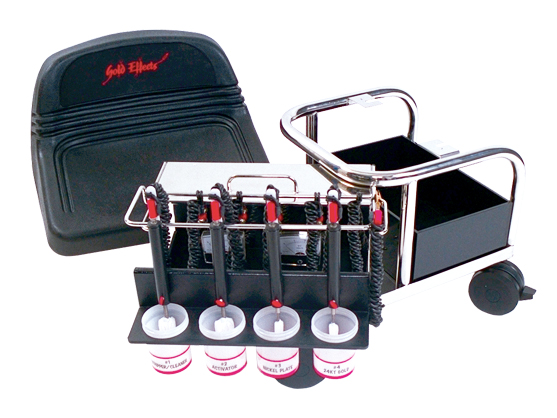 The power system can be removed from the rolling seat base for total versatility. No other manufacturer integrates the seat, wheels, electronics, and solutions into one complete delivery system!
Featuring an advanced, next-generation power system with High Frequency Pulse (HFP) plating technology – ensuring the most durable, brilliant gold finish every time. Forced-air cooling provides dependable performance; and advanced protection circuits prevent "over-stripping" or "over-activating", making it impossible to damage your work piece. Intelligent, self-adjusting electronics – no fuses to blow or circuit breakers to trip. 100% system uptime, and total user-friendliness!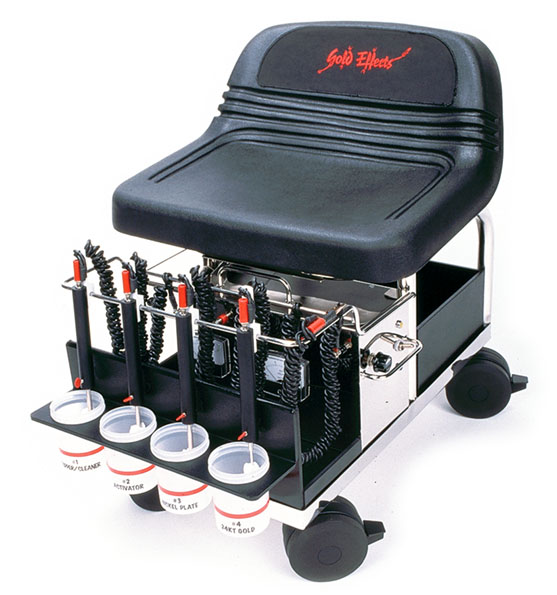 High-Grade Stainless Steel Frame
Precision-Machined Anodes
Large, Locking Caster Wheels
---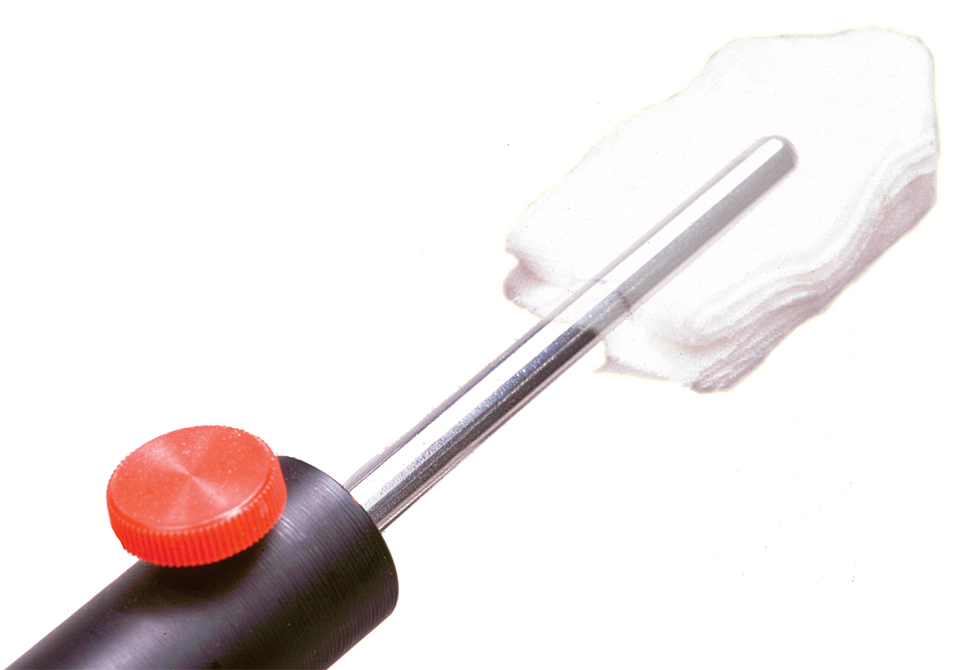 Quick-Release Thumb Screw
Machine-Polished Stainless Anodes
Setting the

Industry Standard
One look at any of our plating systems and you'll see why people rave about the design – we've painstakingly designed our systems to be the highest quality, most user-friendly systems on the market. You'll appreciate every detail – right down to the anode sleeves.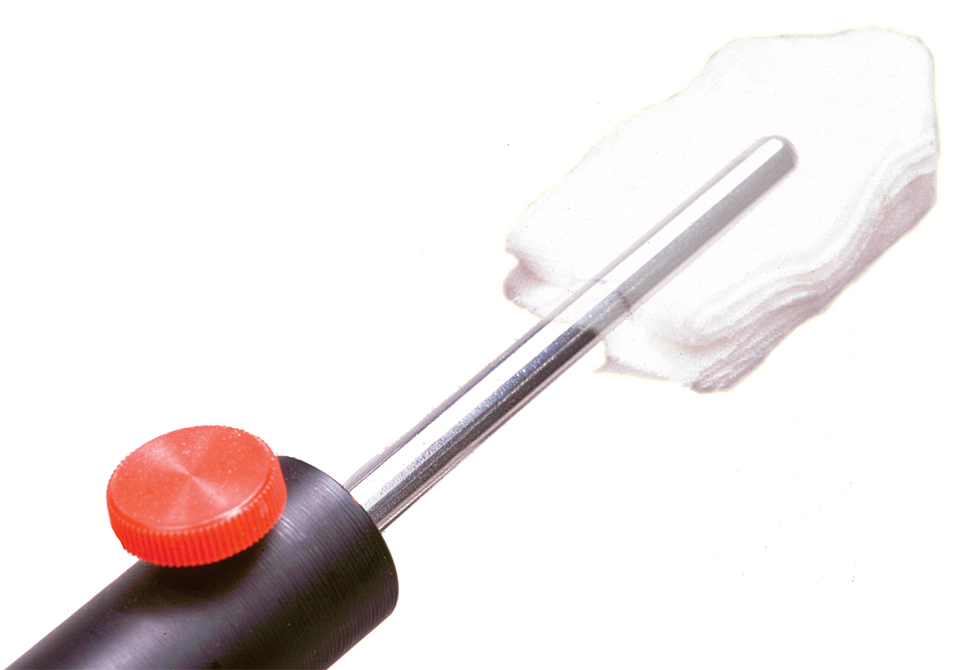 Quick-Release Thumb Screw
Machine-Polished Stainless Anodes
Our professional, high grade stainless anodes are machine polished with rounded ends. This feature is fundamental in protecting the work piece from accidental scratches. And our exclusive, innovative DuraFlap™ sleeves are specifically designed to get into tight recessed areas, effectively removing all of the chrome and easily applying the gold finish.
Quick-release thumb screws provide safe, easy setup and storage – no messy rubber bands or touching any chemistry solutions. Once you are done plating; simply unscrew the anode, letting it drop into the chemistry beaker, and close the lid for safe transport.
---
Deluxe Plater®

Complete Package
When you purchase any Gold Effects system, you get a complete, turn-key package. Everything you need is included – from equipment, chemistry, and essential accessories; you're ready to go right out of the box!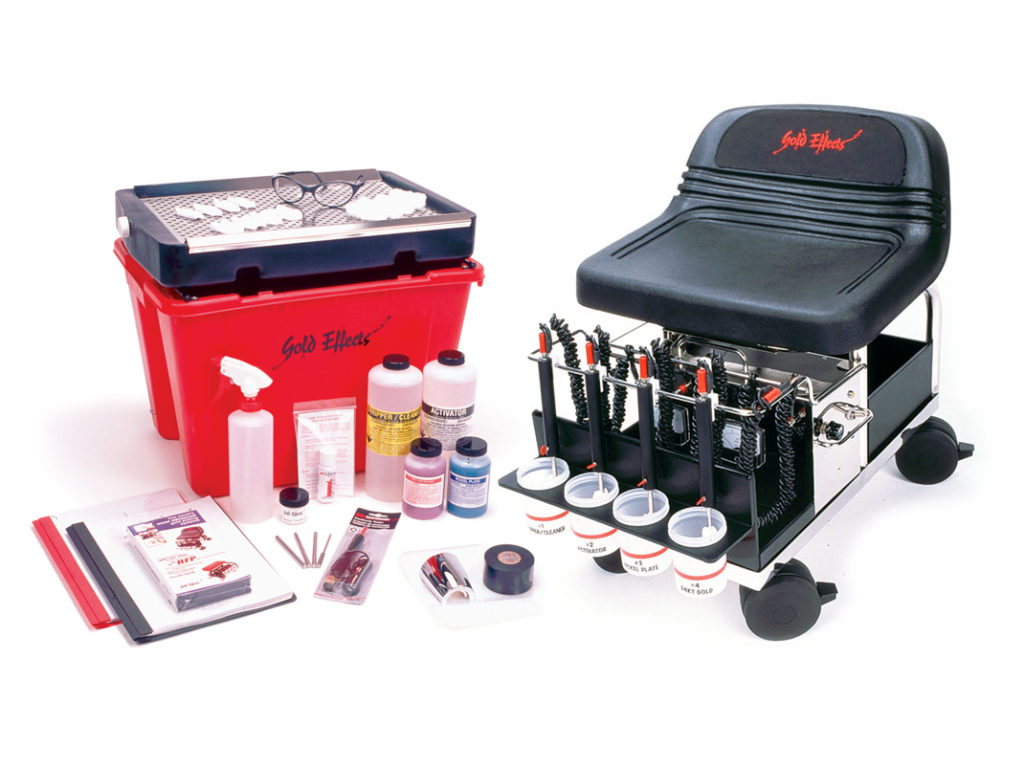 Deluxe Plater® System
(1) 4.25oz. 24kt Gold Solution
(1) 34oz. Stripper/Cleaner
(1) 34oz. Activator
(1) 4.25oz. Nickel Solution
(3) 1/4″ Stainless Anodes
(1) 1/8″ Stainless Anode
(4) 1/4″ DuraFlap Anode Sleeves
(4) 1/8″ DuraFlap Anode Sleeves
(4) 1/4″ Fuzzy Anode Sleeves
Solution Beakers
Solution Drain Pan
(1) Pair Safety Glasses
(6) Pair Rubber Gloves
(1) Roll 1-1/2″ Vinyl Tape
(1) Packet Gold Conditioner
(1) Spray Rinse Bottle
(1) 1oz. Gold Remover Cmpd.
(5) Plastic Masking Sheets
Comprehensive Training Video
Instruction Manual
Unlimited Technical Support
Full factory lifetime warranty
Start your very own high-profit service business today!